With all the controversy over the failed and costly Obamacare program, it's understandable that other entitlements aren't getting much attention.
But that doesn't mean there aren't serious problems with Medicaid, Medicare, and Social Security.
Indeed, the annual Social Security Trustees Report was released a few days ago and the updated numbers for the government-run retirement program are rather sobering.
Thanks in part to sloppy journalism, many people only vaguely realize that Social Security is actuarially unsound.
In reality, the level of projected red ink is shocking. If you look at the report's annual projections and then adjust them for inflation (so we get an idea of the size of the problem based on the value of today's dollars), we can put together a very depressing chart.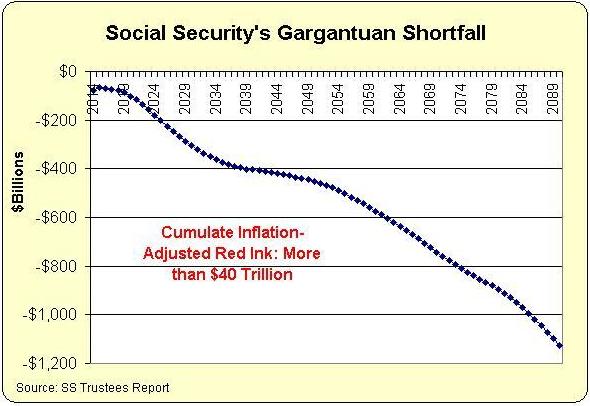 How depressing is this chart? Well, cumulative deficits over the next 75 years will total an astounding $40 trillion. And keep in mind these are inflation-adjusted numbers. In nominal dollars, total red ink will be far more than $150 trillion.
That's a lot of money even by Washington standards.