Ben Bernanke said in 2007, "The impact on the broader economy and financial markets of the problems in the subprime market seems likely to be contained." It turned out that financial disasters in the housing market were not "contained," but spread out to affect the whole American economy and economies overseas.
And here's the icing on the cake.
Bernanke said: "It is an interesting question why what looks like $100 billion or so of credit losses in the subprime market has been reflected in multiple trillions of dollars of losses in paper wealth." What is an even more interesting question is why we should put such faith and such power in the hands of a man and an institution that have been so wrong before.
Sowell acknowledges that we all make errors, but then makes the key point about the risks of giving more and more power to a central bank that has such a dismal track record.
We all make mistakes. But we don't all have the enormous and growing power of the Federal Reserve System — or the seemingly boundless confidence that Fed Chairman Ben Bernanke still shows as he intervenes in the economy on a massive scale.
Sowell then highlights some of the reasons why we should worry about concentrating more power into the hands of a few central bankers.
Being wrong is nothing new for the Federal Reserve System. Since this year is the one hundredth anniversary of the Fed's founding, it may be worth looking back at its history. …In the hundred years before there was a Federal Reserve System, inflation was less than half of what it became in the hundred years after the Fed was founded. The biggest deflation in the history of the country came after the Fed was founded, and that deflation contributed to the Great Depression of the 1930s.
If you want a more detailed examination of the Fed's performance, this George Selgin video is withering indictment.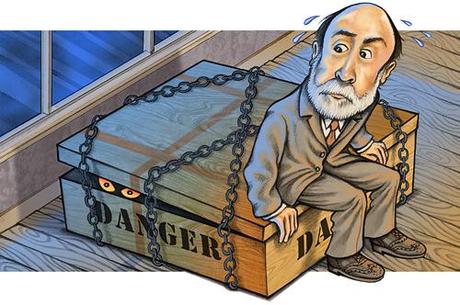 In other words, instead of giving the Fed more power, we should be looking at ways of clipping its wings.
I realize my fantasy of competitive currencies isn't going to be realized anytime soon, and I've already explained why we should be very leery of trusting the government to operate a gold standard.
So I'm not sure whether I have any firm recommendations – other than perhaps hoping to convince policy makers that easy money is the not the right way of boosting an economy that is listless because of bad fiscal and regulatory policy.